Sandra Hunke tests MASCOT® ACCELERATE for women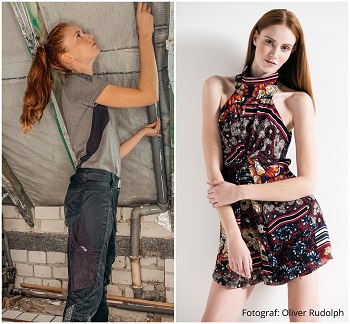 Sandra Hunke lives in two different worlds. She is both a model and a plumber, and couldn't imagine not being both. Sandra Hunke comes from a family of craftsmen and it was clear early on that she wanted to follow the family tradition.
Because Sandra has tried a wide variety of workwear in her work, we asked her how she found the new MASCOT® ACCELERATE range for women.

Modern with many possible variations
Sandra Hunke says the following about the range:
»The new MASCOT® ACCELERATE range has exceeded my expectations. The cuts are even more modern, and new fits have been developed especially for women. In addition to the popular colours, there are also new trendy ones. I discovered signal red and azure blue straight away.«
She also finds that there are many possible combinations, and she always feels perfectly dressed. She can feel smart when she is with customers, and at the same time she can focus completely on her work due to the clothes' high durability and freedom of movement.

Specially developed for women
Sandra Hunke emphasises that today there is no longer a certain ideal of beauty, but every woman is beautiful. That's why she thinks it's good that every type of woman can find the perfect fit. MASCOT® ACCELERATE came about following a comprehensive study into the fit for women. A large number of women from various industries were measured. On this basis MASCOT has developed two fits called PEARL and DIAMOND. Every woman should take their measurements before ordering for the first time. In this way she can find the best fit. You can find your fit like this: The PEARL fit is specially designed for women who have a difference of less than 20 cm between their waist and hip measurements. The DIAMOND fit is for women who have a difference of more than 20 cm between their waist and hip measurements. When you have found your fit, it is the hip measurement that determine your size.

What Sandra Hunke thinks about the material
»The material is amazing. It feels extremely light, which is very valuable on long working days. Workwear you don't even feel but gives you complete freedom of movement. This time you have used stretch again in the right places.«
»The clothing adapts like a second layer of skin to the body, which emphasises femininity and gives me a bit more self-esteem.«