Workwear Recommendations For Women by Sandra Hunke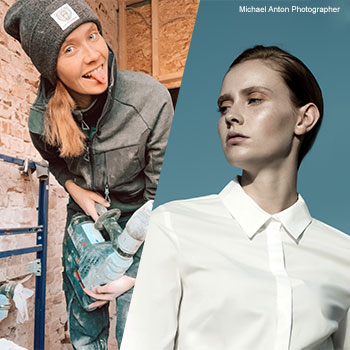 Sandra Hunke – In the dust of the construction site and on the runway.
Sandra Hunke feels at home in two worlds that hardly could be further apart. At the construction site she is a plumber and on the runway, she presents famous fashion designers' latest trends. The 25-year-old German woman grew up in a family of craftsmen, and she loved to look at her dad, while he was working in the workshop.
Public face
As a plumber, I work both indoors and outdoors. That's why I often tend to layer up, so that I can take layers on and off depending on where I end up working. It's also important for me to look presentable when I'm with customers. That's why the MASCOT polo shirt is one of my favourites – I've even had my name printed on it. It looks really professional and is also very comfortable to wear. And having my name printed on my clothes helps to quickly build personal relations with the customers.
Workwear trousers
I always wear my MASCOT® ADVANCED trousers with kneepad pockets and holster pockets. They feel so lightweight and comfortable to wear. I can barely feel them against my skin, which makes them very easy to move around in. They also look really cool and come in lots of great colours. I've got the 3/4 length version as well, which is great for when the weather is a bit warmer.
Choosing footwear
I always wear safety boots rather than safety shoes! The high upper fits closely to the ankle and provides excellent support around the foot! I would definitely recommend choosing a pair of safety boots over safety shoes – especially if you need extra support around the ankle.